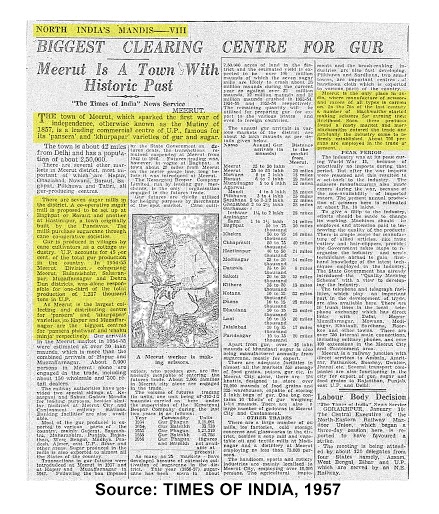 The town of Meerut,which sparked the first war of independence,otherwise known as the mutiny of 1857,is a leading commercial centre of U.P. ,famous for its 'pansera' and 'khurpapar' varieties of gur and sugar.
There are seven sugar mills in the district.A co-operative sugar mill is proposed to be set up at Baghpat of Baraut and another at Hastinapur, a town originally built by the Pandavas. The mills purchase sugarcane through cane co-operative societies.
Gur is produced in villages by cane cultivators as a cottage industry.U.P. accounts for 45 percent of the total gur production in the country.In 1954-55 Meerut division comprising Meerut, Bulandsheher, Saharanpur, Muzaffarnagar, and Dehradun districts,was alone responsible for one-third of the total production of 1,237 thousand tons in U.P.
As Meerut is the largest collecting and distributing centre for 'pansera' and 'khurpapar' varieties,so Hapur and Muzaffarnagar are the biggest centres for "pansera phatwan' and "chakuminja' respectively.
Meerut is the only place in India,where manufacture of scissors and razors of all types carried on.In the 70s of the last century, a number of blacksmiths started making scissors for earning their livelihood.Soon these products found a ready market and more blacksmiths entered the trade and gradually the industry came to be firmly established.About 700 persons are employed in the trade at present.