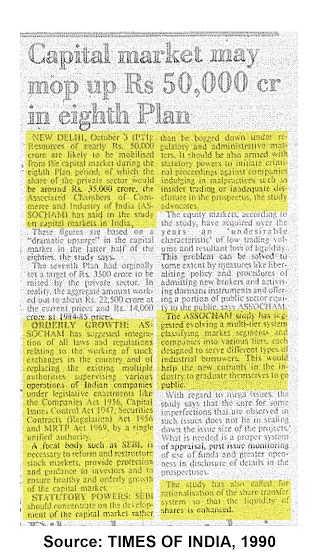 Resources of nearly Rs. 50,000 crore are likely to be mobilized from the capital market during the eighth plan period,of which the share of the private sector would be around Rs. 35,000 crore,the Associated Chambers of Commerce and Industry in India(ASSOCHAM) has said in the study on capital markets in India.
ORDERLY GROWTH:ASSOCHAM has suggested integration of all laws and regulations relating to the working of stock exchanges in the country and of replacing the exciting multiple authorities supervising various operations of Indian companies under legislative enactments like the Companies Act 1956,Capital Issues Control Act 1947,Securities Contracts(Regulation)Act 1956 and MRTP Act 1969 by a single unified authority.
A local body such as SEBI,is necessary to reform and restructure stock markets,provide protection and guidance to investors and to ensure healthy and orderly growth of the capital market.
STATUTORY POWERS:SEBI should concentrate on the development of the capital market rather than be bogged down under regulatory and administrative matters.It should be also armed with statutory powers to initiate criminal proceedings against companies indulging in malpractices such as inside trading or inadequate disclosure,the study advocates.
The ASSOCHAM study has suggested evolving a multi-tier system classifying market segments and companies into various tiers,each designed to serve different types of industrial borrowers.This would help the new entrants in the industry to graduate themselves to go public.
The study has also called for rationalization of the share transfer system so that the liquidity of shares is enhanced.