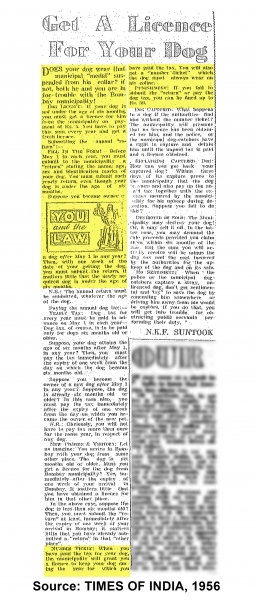 Does your dog wear that municipal "medal" suspended from his collar? If not, both he and you are in for trouble with the Bombay municipality!
DOG LICENCE: If your dog is not under the age of six months, you must get a licence for him from the municipality on payment of Rs. 5. You have to pay this sum every year and get a fresh licence.
FILL IN THE FORM! Before May 1 in each year, you must submit to the municipality a "return" stating the name, age, sex and identification marks of your dog. You must submit each yearly return, even though your dog is under the age of six months.
Suppose you become owner of a dog after May 1 in any year? Then, with one week of the date of your getting the dog, you must submit the return, it matters little that the newly acquired dog is under the age of six months.
NUMBER TICKET: When you have paid the tax for your dog, the municipality will grant you a licence to keep your dog during the year for which you have paid the tax. You will also get a "number ticket" which the dog must always wear on his collar.
PUNISHMENT: If you fail to submit the "return" or pay the dog tax, you can be fined up to Rs. 50.