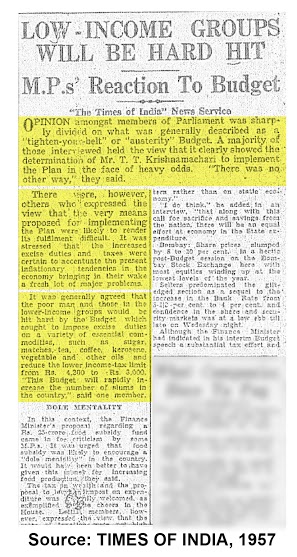 OPINIONS amongst Members of Parliament was sharply divided on what was generally described as a "tighten-your-belt" or "austerity" Budget.A majority of those interviewed held the view that it clearly showed the determination of Mr. T.T. Krishnamachari to implement the plans in the face the heavy odds."There was no other way".they said.
There were,however,others who expressed the view that the very means proposed for implementing the plan was likely to render its fulfillment difficult.It was stressed that the increased excise duties and taxes were certain to accentuate the present inflationary tendencies in the economy bringing in their wake a fresh lot of major problems.
It was generally agreed that the poor man and those in the lower-income groups would be hit hard by the Budget which sought to impose excise duties on a variety of essential commodities such as sugar,matches,tea,coffee,kerosene,vegetables and other oils and reduce the lower income tax limit from Rs. 4200 to Rs. 3000."This Budget will rapidly increase the number of slums in the country."said one member.