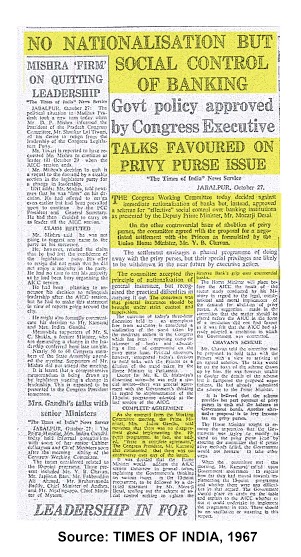 TALKS FAVOURED ON PRIVY PURSE ISSUE
The Congress working committee today decided against immediate nationalisation of banks,but,instead approved a scheme for "effective" social control over banking institutions as presented by the Deputy Prime Minister, Mr. Morarji desai.
On the other controversial issue of abolition of privy purse,the committee agreed with the proposal for a negotiated settlement with the Princes as formulated by the Union Home Minister,Mr. Y.B. Chavan.
The company accepted the principle of nationalisation of general insurance,but recognised the practical difficulties in carrying it out.The consensus was that general insurance should be brought under strict control and supervision.
COMPLETE AGREEMENT
As she emerged from the working Committee meeting,the Prime Minister,Mrs. Indira Gandhi,told that there was no disagreement about implementing the 10-point programme. In fact,she added,"there is complete agreement".Mr. kamaraj,also commented that there was no controversy over any of the issue.
It was decided that the Prime Minister would address the AICC session tomorrow.In general terms,captaining the government's thinking on various issues.In the 10-point programme,to be followed by a detailed statement by Mr. Morarji Desai,spelling out the schemes of control to lighten the Reserve Bank's grip over commercial banks.