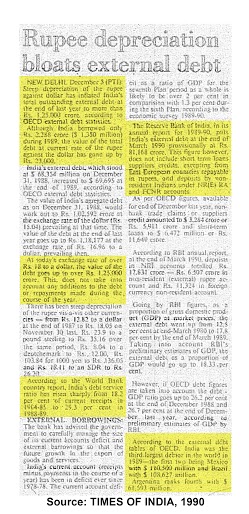 Steep depreciation of the rupee against dollar has inflated India's total outstanding external debt at the end of last year to more than Rs. 1,25,000 crore, according to OECD external debt statistics.Although India borrowed only Rs. 2288 crore(4 1350 million) during 1989,the value of the total debt at current rate of the rupee against the dollar has gone up by Rs. 23,000.
At today's exchange rate of over Rs. 18 to a dollar,the value of the debt goes up to over Rs. 1,25,000 crore.This,does not take into account any additions to the debt or repayments made during the course of this year.
According to the World Bank country report,India's debt service ratio has risen sharply from 18.2 percent of current receipts in 1984-85 to 29.3 percent in 1988-89.
The Reserve bank of India,in its annual report for 1989-90,puts India's external debt at the end of march 1990 provisionally at Rs. 81,168 crore.This figure however does not include short terms loans suppliers credits,exempting from East European countries repayable in rupees,and deposits by non-resident Indians under NR(E)RA and FCNR accounts.
According to the external debt tables of OECD,India was the third largest debtor in the world in 1989-the first two being Mexico with $ 110.500 million and Brazil with $ 108,627 million.
Argentina ranks fourth with $ 61,593 million.