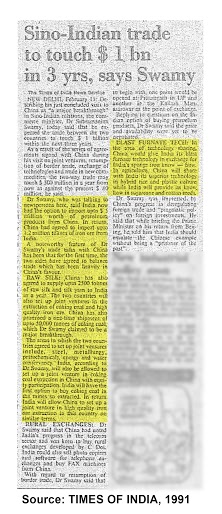 Dr. Swamy,who was talking to newspapers here,said India now had the option to import upto $5 million worth of petroleum products from China.In return,China has agreed to import upto 1.2 million tonnes of iron from India.
A noteworthy feature of Dr. Swamy's trade talks for China has been that for the first time,the two sides have agreed to balance trade which has been heavily in China's favour.
RAW SILK:China has agreed to supply upto 2500 tonnes of raw silk and silk yarn to India.In a year,the two countries will also set up joint ventures in the extraction of coking coal and high quality iron ore.China has also promised a one-time shipment of upto 50,000 tonnes of coking coal,which Dr. Swamy claimed to be a major breakthrough.
The areas in which the two countries agreed to set up joint ventures include steel,metallurgy,petrochemicals,energy and water conservancy.India,according to Dr. Swamy,will also be allowed to set up a joint venture in coking coal extraction in China with Equity participation.India will also have the first option to buy coking coals in the mines so extracted.In return,India will allow China to set up a joint venture in high quality iron ore extraction in this country on similar terms.