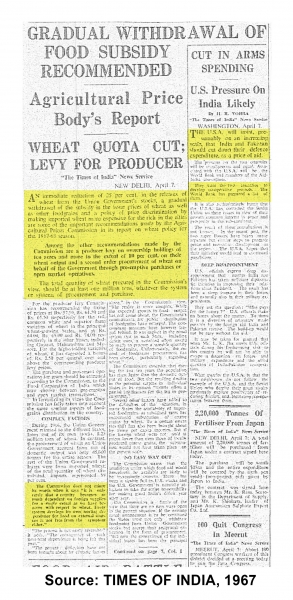 An immediate reduction of 25 per cent in the releases of wheat from the Union Government's stocks. a gradual withdrawal of the subsidy in the issue prices of wheat as well as other foodgrains and a policy of price discrimination by making imported wheat more expensive for the rich in the cities are some of the important recommendations made by the Agricultural Prices Commission in its report on wheat policy for the 1967-1968 season.
Among the other recommendations made by the Commission are a producer levy on ownership holdings of ten acres or more to the extent of 10 per cent on their wheat surplus and a second order procurement of wheat on behalf of the Government through pre-emptive purchases or open market operations.
The total quantity of wheat procured in the Commission's view should be atleast one million tons, whatever the system or systems of procurement and purchase.
The Commission does not mind its words when it says "It is only rarely that a country becomes as much dependent on foreign supplies for a staple cereal as we have become rich expert in wheat.Every system develops its own merits.
U.S. PRESSURE ON INDIA LIKELY
The U.S.A. will insist,presumably on an increasing scale,that India and Pakistan should cut down their defence expenditure as a price of aid.
They want the two countries to develop co-operative projects.The World bank has presented a lot of them.